Liceo College of Medicine – Most Economical
---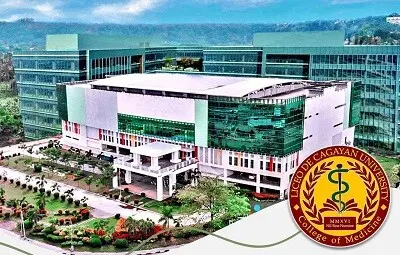 Liceo De Cagayan University College of Medicine
The Most Economical Medical College in the Philippines
Make the perfect decision in choosing the right career path with Liceo De Cagayan University. Choose study in medicine at Centers of Excellence & Development Liceo de Cagayan University College of Medicine. It is one of the most economical universities in the Philippines after Lyceum Northwestern University. Its total 5.5 years Fee is Rupees 13.5 Lakhs.

Liceo College of Medicine – Quick Facts
Established in the year 1955, Liceo is a private university
The second-largest University in the Philippines
Internationally recognised course curriculum
Researched learning materials for easy understanding
Innovative approaches to learning and self-paced learning
Competitive fee package making education affordable
An ideal teacher-student ratio for a better learning
Education at Liceo is based fundamentally on the US education system
Clinical rotations in the UK, USA, India, Australia, Canada, and Europe
First in the Philippines to hold a postgraduate degree in Local Governance Management
Accredited by the Philippine Association of Colleges and Universities Commission on Accreditation (PACUCOA)
Study MBBS in the Philippines at Liceo College of Medicine
The Liceo de Cagayan University is the largest and ultramodern University based in the Philippines. It is home to over 10,000+ international students pursuing courses in medicine. With the flexible learning experience, excellent education, expert academicians, and state of the art infrastructure, Liceo de Cagayan University in the Philippines has become the top destination for MBBS abroad. Every year thousands of Indian students strive to seek admission to the MBBS Study Programme equivalent to MD in the Philippines.
 Advantages at Liceo College of Medicine
Competitive tuition fee structure
Low cost of living
Economical transport and meal
Top-quality education in medicine
Teaching by experienced faculties
Highly engaging study environment
No need to pay a donation or capitation fee
Recognition from MCI, WHO, and other medical bodies
On-campus accommodation for international students
Access to delicious Indian food
The awarded certificate is valid worldwide
No IELTS or TOEFL exams are required to study medicine at Liceo University
English is the medium of instruction for international students
Why Study MBBS in the Philippines?
Easy admission process for international students
Fast VISA approval for students
Top education quality at a low tuition fee
Education in the country is similar to the US education system
Ease of communication and hassle-free documentation
Education at Liceo focuses on increasing employability
Safe destination for male and female students
Amenities at the University
Modern library & Auditorium
Biology Laboratory & Physics Laboratory
Computer Laboratory & Chemistry Laboratory
24×7 Wi-Fi / Internet
Air-conditioned Classrooms
Playground & Basketball Court
Gym & Dormitory
Canteen & Theater
Audio-Visual Rooms
 VISA Documents for Admission to MBBS Course
Copy of a valid Passport
Filled student VISA Application form
Fitness certificate
Passport size photographs – 3 copies
Fee payment receipt
Original Notice of Acceptance (NOA)
Police Clearance Certificate approved by the Philippine Embassy (CEA)
VISA Fee receipt
Admission Guidelines for International Students
Send scanned copies of academic certificates
Also, submit a scanned copy of your passport
Wait for the confirmation and admission letter from the selection committee
Pay the requested fee and share the receipt
Now proceed with the VISA application
Visit the Philippines Embassy either in Delhi or Mumbai or Chennai or Kolkata
Get your documents verified by the Embassy for VISA processing
Located at Cagayan de Oro City in the Philippines, Liceo de Cagayan University (Liceo College of Medicine) is the top-ranked educational institution abroad.
Liceo Fee Structure & Brocure | Click Here to View/DownLoad |