THE UNIVERSITY OF GEORGIA (UoG)
The University of Georgia (UG),Tbilisi is the largest private University in  Georgia. It is well known for imparting excellent standard of education in the country. The University was established in 2004 with the objective to encourage the personal development of each student and mold her/him as a highly qualified professional. The education quality standard can be determined by the fact that currently more than 6000 local and international students are pursuing various courses in University of Georgia (UoG).
The University offers three levels of higher education (Bachelor, Master and PhD) in Georgian and English languages. It is best Choice to do MBBS from  Georgia. The 6 years duration of MD program (equivalent to MBBS) in English language at University of Georgia (UoG) includes; Theoretical and Laboratory teaching, as well as the clinical practice which is implemented directly in the subjective areas. Keeping in mind it's objectives, University does not exceed more than 15 numbers of students in each laboratory and practical groups. This strategy has helped faculty members to focus on each student and resolve their queries professionally.
Recognition and Accreditation :
The University of Georgia  is recognized and accredited by the following Governing bodies :
MCI (Medical Council of India)

WHO (World Health Organisation)

FAIMER (Foundation for Advancement of International Medical Education and Research)

ECFMG (Educational Commission for Foreign Medical Graduates)
About Georgia
Georgia is a sovereign state in the Caucasus region of Eurasia. Located at the crossroads of Western Asia and Eastern Europe, it is bounded  to the west by the black Sea, to the north by Russia, to the south by Turkey and Armenia, and to the southeast by Azerbaijan. The capital of Georgia is Tbilisi. Georgia covers a territory of 69,700 km and its population is almost 4.7 Million. Georgia is a unitary, semi-presidential republic, with the government elected through a representative democracy.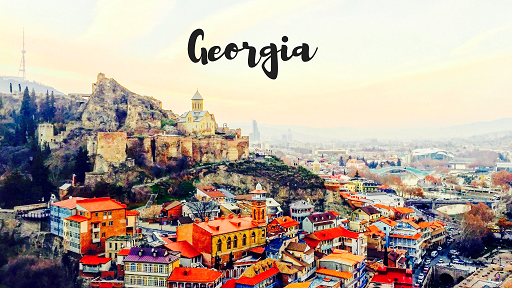 | | |
| --- | --- |
| Capital City | Tbilisi, also the largest city of Georgia |
| Official Language | Georgian |
| Religion | Christian |
| Population | 3,723,500 appx |
| Currency | Georgian Lari (GEL) |
| Climatic Conditions | March – Sept (13°C, 15°C) Oct – Feb (20°C, -1°C) |
| Cost of Living | 200 USD – 225 USD |
| Calling code | +995 |
Advantages of Studying MBBS in Georgia
MCI recognized Medical Universities

Worldwide valued and acceptable MBBS degree

Universities accredited by WHO/FAIMER and ECFMG

No IELTS and TOEFL required

Quality Education at affordable tuition fee

Economical cost of living

Great infrastructure & technology

European living standard

Safe country to live and study

No Entrance Examination

Literacy rate in Georgia is 99.7% of both male and female.

Indian Food availability