UV Gullas College of Medicine, Philippines
---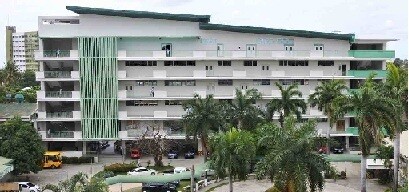 UV Gullas College of Medicine, Philippines
With its 100 years of legacy, UV Gullas College of Medicine is the ideal educational institution for Indian students looking to study abroad. It is an MCI recognized college and home to over 5000+ Indian students. Today, it has become one of the most preferred choices for male and female Indian students.
UV Gullas College of Medicine – Quick Facts
The 3rd topmost college in the Philippines for education in medicine
It was established in the year 1977
Highest MCI screening test and USMLE pass percentage
World-class medical education at a low fee
3rd top MCI approved medical collegesin the Philippines
American-based syllabus with more focus on clinical experience
Hi-tech campus with modern infrastructure
Well-known for offering an international learning experience
State-of-the-art new-age digital infrastructure
Globally recognized course curriculum
A strong foundation in clinical experiences and biomedical sciences
Recognised by CHED-Philippines, National Medical Commission Of India, WHO, FAIMER-IMED, WDOMS, ECFMG-USMLE, & Medical Boards Of the USA & the UK
Advantages at the College
Economical tuition fee affordable by all
Dedicated counsellors to guide students at the campus
Dedicated student support desk
Ideal ratio of Male/Female students
Experienced and cooperative teaching faculties
No admission test and no capitation fee
The awarded medical degrees are recognized worldwide
Good option for research work
English is the medium of teaching for international students
TOEFL (Test of English as a Foreign Language) and IELTS (The International English Language Testing System) score is not mandatory
UV Gullas College of Medicine is the right platform for USMLE, FMGE, and PLAB
Provides MCI/NMC screening test training and support to Indian students
Good facilities for extracurricular activities
Favourable climatic conditions suitable for Indian students
Special Advantage to Indian Students
No donation of any kind unlike in Indian private colleges
Hassle-free and speedy admission process
100% Student Visa and documentation approval
Food and Accommodation cost is low
Access to Indian food and snacks
UV Gullas College of Medicine Accreditation s
World Health Organization
National Medical Commission, India
Educational Commission for Foreign Medical Graduates, (ECFMG), USA
The Foundation for Advancement of International Medical Education and Research, (FAIMER)
International Medical Education Directory, (IMED)
US Education Department
Medical Council of Canada
Medical Council of Thailand
Medical Council of California
General Council of Medicine of Great Britain
Duration of the Study
MBBS equivalent to BSMD in the Philippines at UV Gullas College of Medicine is a 5.5 years study. The duration also includes internships in the affiliated hospitals aiming at providing practical exposure and enhancing medical skills along with knowledge.
About the Cebu City
UV Gullas College of Medicine is located in the beautiful Cebu City. It is known for its pleasant atmosphere and climatic conditions. Located in Central Visayas, Cebu is the financial capital and the first capital of the Philippines. It is one of the most loved and developed provinces having good connectivity. The city has emerged as a global hub for a range of businesses and offers mind-blowing natural views in the last decade. There are many places to visit in the city for international students. The many advantages make the UV Gullas College of Medicine campus located in Cebu city an ideal place for focused studies in a peaceful natural atmosphere.
Affiliated Hospitals for Internships
Perpetual Succour Hospital
Vicente Sotto Memorial Medical Center
CDU Hospital
Chong Hua Medical Center
Medium of Instruction
At UV Gullas College of Medicine in the Philippines, language is not a barrier for international students. To overcome the language barrier, the teaching faculties in classrooms use English as the medium of instruction.
  Fee Structure at UV Gullas College of Medicine
The fee at the college is as low as INR 2.7 lakhs approx. per annum making it affordable also for the students coming from the weaker section of the society.  
Program
Academic Year
Fee in USD
Tuition Fees in INR
Pre-Medicine Program

(BS Biology)

For 3 Semester and 1 Summer
USD 9200
INR 6,75,000
Doctor of Medicine (M.D.)
MD – 1st Year
USD 4350
INR 2,98,000
MD – 2nd Year
USD 4000
INR 2,70,000
MD – 3rd Year
USD 4000
INR 2,70,000
MD – 4th Year
USD 4000
INR 2,70,000
Total Amount in INR
USD 25,550
INR 17,83,000
Note: The tuition fee and other changes are subject to change. In addition, the amount can vary depending on the conversion value of a currency at the time you decide to pay the fee.
For Brochure and latest Fee Structure Click Here
Eligibility for Admission
Qualifying marks in the NEET
Should have passed +2 in science stream with 50% score in PCB
Should have scored 50% marks in aggregate in 12th examination
Should have completed 18 years of age
The applicant need to be medically fit
Essential Documents for VISA
Copy of a valid passport
Six coloured passport size photographs
Marksheets for class 10th, 11th, and 12th
NEET scorecard
Fitness certificate and blood group report
COVID-19 vaccination report
Bank statement of Parents/Guardians of last 6 months with an available minimum closing balance of INR 3 lakh having bank stamp and signature
Facilities at the College
In-campus hostels for international students
24×7 security and CCTV monitoring
Study halls and libraries
Clean and airy classrooms
Modern science labs for practical
Latest equipment in all the labs
Good and healthy study atmosphere
Sports and recreation facilities
Safe and secure campus
Comfortable stay and study facilities
Availability of veg and non-veg South/North Indian food
UV Gullas College of Medicine located in the incredible Cebu City in the Philippines has become the hot destination for Indian medical students owing to the various good reasons detailed above. Many international students compete to seek admission to the MBBS (MD) course in the Philippines. Contact us to initiate your documentation and admission process today!